Patient satisfaction and open communication are the cornerstones of our practice. By carefully explaining procedures to you before and during your treatment, you will feel more comfortable and relaxed.
Our caring and concerned staff is experienced and expertly trained in all areas of clinical dentistry; this ensures you a better understanding of your oral health. They have been selected because of particular qualifications, which closely match the needs of our patients.
I was impressed with each member of our team when I first met them. They have chosen to emphasize personal development through continuing education, participation with other team members and high achievement. I am sure you'll be equally impressed as they treat you exactly the way they would want to be treated!
---
Mark A. Ferrari, D.D.S.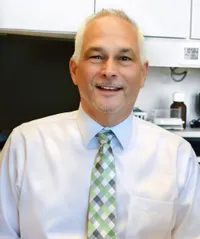 Dr. Mark A. Ferrari graduated with a B.S. degree from Marquette University, Milwaukee, Wisconsin, in 1977. He attended Marquette University School of Dentistry attaining a D.D.S. degree in 1983. Dr. Ferrari has practiced preventive and restorative care in Schaumburg since 1984 and at his current location beginning in 2003.
Dr. Ferrari resides in Palatine with his wife and 2 children. He is an active member of the American Dental Association, Academy of General Dentistry, Illinois State Dental Society, Chicago Dental Society and the American Dental Education Association. He is also a past founding member of the Chicago Academy of Interdisciplinary Therapy and active in area study clubs while also attending numerous post-graduate courses and seminars each year.
Dr. Ferrari also holds the positions of Clinical Supervising Dentist one day per week in the Dental Hygiene Program at Harper College, providing supervision, instuction and guidance to its second year students and their respective patients, as well as Adjunct Professor of Dental Materials.
---
Judy, Dental Assistant
Judy found her passion 22 years ago. Dentistry and helping people look and feel their best propels her to come to work each day with a smile and a fresh outlook. Patient comfort and education are key to having a plesant experience at your dental appointment. Finding a dentist like Dr. Ferrari is a rare find for both employee and patient. Compassionate, competent, conservative, and kind. His skills and knowledge are outstanding, and Judy feels fortunate to have found such a fabulous office to work in.
---
Alena, Preventive Therapist, RDH
Alena has shown passion for the dental field since she was young growing up in Des Plaines. She began working as a dental assistant and graduated from Harper College's Dental Hygiene Program in 2016 with a complete knowledge of periodontal therapy and its relation to systemic health. Alena enjoys spending time with her family, exploring downtown and traveling extensively. With a set goal of helping our patients acheive their optimal oral health, Alena's gentle and caring touch puts everyone at ease during their visits!
---
Diane, Patient Coordinator
I have been part of this dental team for over 20 years and have lived in the Hoffman Estates area for 40 years. I am the proud grandmother of 4. Over the years I've had the opportunity to help our patients with insurance questions ,scheduling appointments and improve communication when needed between patient and doctor. Patient care has always been the number one priority in our office which I am very proud of. It is always been my hope that walking into Dr. Ferrari's office will be a comfortable and happy experience for our patients!
---
Emily, Preventive Therapist, RDH
Emily is a 2006 graduate from Harper College's dental
hygiene program. She has been a staff member of Dr. Ferrari's since 2008. She has extensive experience in both general and pediatric dentistry. Emily is dedicated to the dental health profession and making sure all her patients feel comfortable and leave loving their smile! Emily also enjoys traveling and spending time with her husband and 2 children.